Vapour Blasting is the surface renovation process of firing small glass bead media within a water and high volume compressed air stream at the target surface. The process is much less abrasive than Sandblasting as the water cushions the blast media and leaves a smoother, brighter, and more durable finished surface.
The process produces a fine satin finish and can be used on most metals including Aluminium, Brass, Bronze, Magnesium, Titanium, Copper and Stainless Steel etc.
Items to be re-finished do need to be free from oil, grease, and old paint. I'm happy to do some light cleaning, but please try and clean your parts as well as you can before collection/delivery.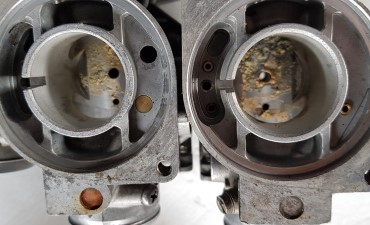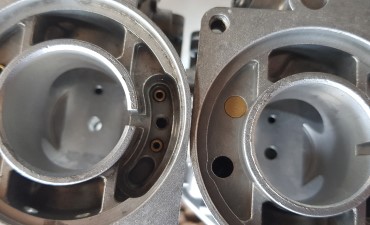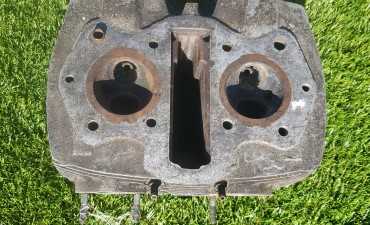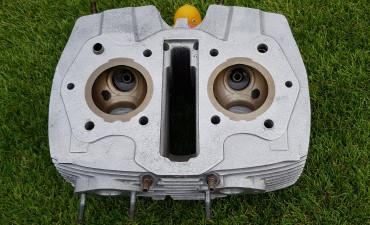 Costs
Just to be clear, parts must not be covered in grease, gunge and old paint before being blasted. This detritus will contaminate the vapour blasting cabinet.
We can provide these services, but this will be at extra cost.
Obviously the more convoluted or "finned" parts are, the longer it will take to accurately cover each and every surface and find all those corners.
The following is a good guide

| | |
| --- | --- |
| Most motorcycle outer Generator/Clutch/Sprocket type cases etc. | £20-£30 |
| Single Cylinder Barrels or Heads "each" | £20-£30 |
| Single or Twin Cylinder Crankcases "per pair" | £40-£60 |
| 3, 4, or 6 Cylinder Heads | £30-£90 |
| 3, 4, or 6 Cylinder Barrels | £30-£70 |
| 3, 4, or 6 Cylinder Crankcases "per pair" | £70-£90 |
I'm happy to blast complete "Single Cylinder" engines, but not multi's as there are too many inaccessible angles to reach.
For an accurate fixed price, the best thing to do is send us photos of your parts!!
chris@midsussexvapourblasting.co.uk
My History
During the 80's and 90's I ran an industrial steam cleaning and wet sandblasting company. I then moved into the rather different direction of software development within the nuclear industry. Fast forward 30 years and I am now pleased to be able to follow my interest in cars and motorcycles and get back into something more practical again.
My aim is to provide a top class service for people who share this love for their cars and motorcycles.